Women are always crazy about the latest designs and trends when it comes to jewellery and accessories. A statement neck piece is something which every woman craves for because wearing that can really help getting other's attention.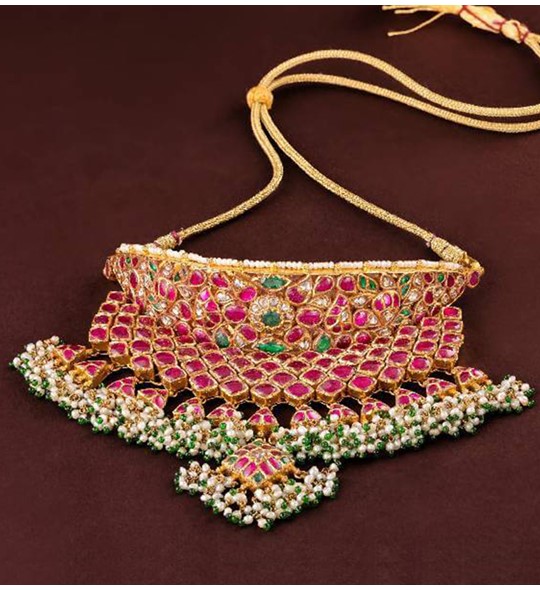 When it comes to necklace variations, choker necklace is something that has come back to the fashion market again. Though this is an age old design, they have come back to the scene again with some contemporary twists. One can get to see the versatility of the chokers in both modern and traditional designs and hence one can always sport them depending on what kind of an occasion they are wearing it to.
 Royal traditional Indian chokers
As the name suggests it has some royal touch to it and thus the piece is full of gorgeousness. These traditional chokers are mostly inspired by the Mughal era design and lots of precious and semi precious stones are used to make one. One can wear them in any wedding occasion and this can be the major highlight of the entire attire. One can also go for a kundan choker because they also have unique designs and heavy embellishments. These traditional chokers are mostly Rajasthani or Mughal designs and this can always bring a royal charm to the attire. One can also add some pearls and polka to make ot more gorgeous.
Simple strands
There are many women who love to wear light and simple jewellery. If they want to wear a choker and look elegant then a simple strand choker will work best for them. This can create a lot of style to their daily wear. One can easily adorn them in casual events, work places and even at festivities. There are many varieties when it comes to simple strand chokers. They can be metallic or can just be made of simple beads. Some can have two or three strands and one can wear them according to their attire.
Pearl chokers
Women always fall for elegant jewellery and hence pearl chokers can be the best choice for them. They can actually upgrade the look of any ensemble and one can look really elegant in that. One can easily pair up a pearl choker with a western wear, a funky outfit or traditional attire. They can be of a single strand or of multiple strands with some ivory beads in between. In fact one can also wear this choker as a part of their bridal attire.
Diamond chokers
They are not only expensive but they are exquisite as well. The best way to flaunt those diamond pieces are by wearing them as a choker. It is a good idea to go for small diamond crystals when they are thinking about a diamond choker and one can wear them with an evening gown or a chiffon or georgette sari. They will shine all along whether one wears it in the morning or evening.
Apart from these one can also think of wearing fabric chokers which are made from satin or velvet. Tribal chokers are also in fashion.